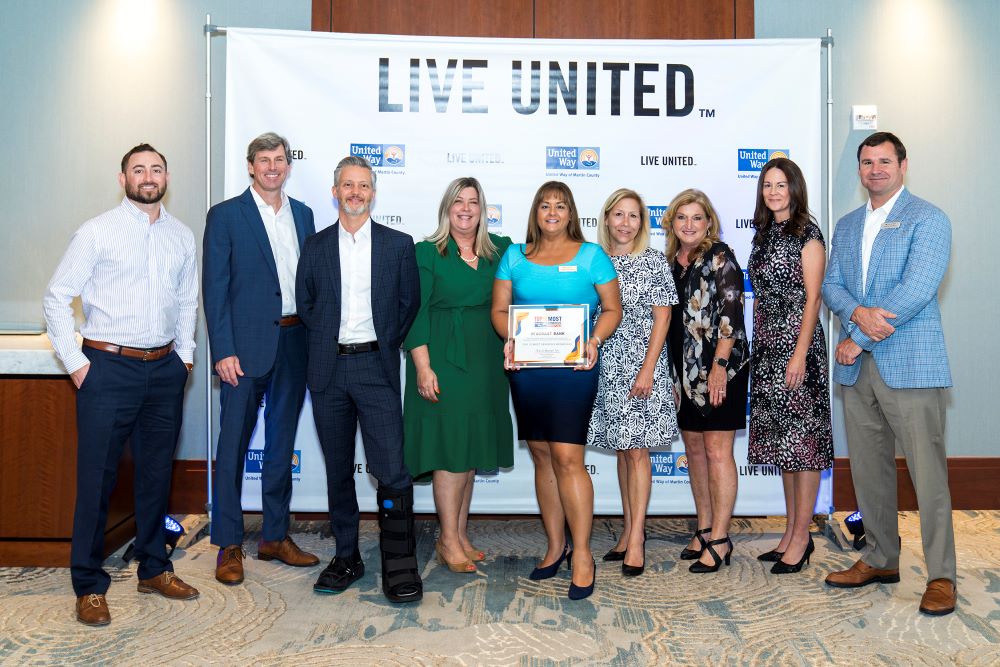 United Way of Martin County celebrated the kickoff of its annual campaign with the Community Leaders' Celebration luncheon held at Sailfish Point Country Club on October 20. The event served as a platform to honor the outstanding achievements of the past year while highlighting the organization's goals for the future. At the luncheon, which was attended by nearly 200 people, United Way thanked the dozens of organizations and thousands of individuals who raise millions of dollars every year to help Martin County residents meet their basic needs and build better, more stable lives for themselves and their families.
Bryan Garner, Senior Marketing and Communications Director for NextEra Energy/FPL, served as event emcee.
"Although we've experienced a lot of turmoil this past year causing unexpected world changes, one thing that stays consistent is United Way," Garner said. "Regardless of the situation, local United Ways play a critical role in communities by providing help and hope for residents to get back on their feet."
During the luncheon, United Way announced Martin County's Top 10 Most Generous Workplaces and Communities that make our community investment possible:
 
Top 10 Most Generous Workplaces:
Publix Supermarkets
Seacoast Bank
Florida Power & Light (FPL)
Cleveland Clinic Martin Health
Martin County Board of County Commissioners
Pratt & Whitney
City of Stuart
Raymond James Associates
Bank of America
Ashley Capital
Top 10 most Generous Communities:
Sailfish Point
Piper's Landing
Harbour Ridge
Willoughby
Loblolly
Sandhill Cove
Mariner Sands
Sewall's Point
Jupiter Island
Jupiter Hills
 
These are the Top 10 of the nearly 200 companies and communities whose employees and residents gave philanthropic contributions to United Way of Martin County during the previous fiscal year. Since United Way's inception of honoring our Top 10 Most Generous Workplaces and Communities, Publix Supermarkets and Sailfish Point continue to reign as the most generous workplace and community in Martin County.
The following awards were presented to organizations and individuals that went above and beyond to support United Way of Martin County's efforts by donating their time, talent and treasure:
The Hand Raiser Award was presented to STS Aviation Group for always raising their hands to help when United Way is in need.
The Rising Star Award was presented to Ashley Capital for their volunteer and sponsorship support. 
The Volunteer of the Year Award was presented to Germaine Alger for being a staple volunteer in our AmeriCorps Seniors Program for over 24 years.
The Unsung Hero Award was presented to Alicia Kotch for her significant behind-the-scenes impact on our community.
United Way also would not be able to uphold its mission without the support of our incredible sponsors. Their unwavering commitment is the driving force behind our ability to honor the true game changers in our community:
The goal of United Way is to increase self-sufficiency for every person in Martin County through resources and programs that promote health, education and financial stability. This year, United Way invested over $1.7 million in local programs to help Martin County families get solid financial ground, students succeed in school, and youth learn vocational and technical skills, among other amazing programs. 
For more information about United Way of Martin County, visit UnitedWayMartin.org.
---
About United Way of Martin County
United Way of Martin County's mission is to improve lives by mobilizing the caring power of our community. United Way continues to create long-term social change and provide support to Martin County residents by investing in programs that strive to: enhance healthy living, improve education, and support financial stability. 
---
PHOTO CREDIT: Liz McKinley 
NEWS SOURCE: friendsandneighborsofmartincounty.com/nonprofit-notices
PHOTO ALBUM: facebook.com/media/set/?set=a.1102657794420978&type=3