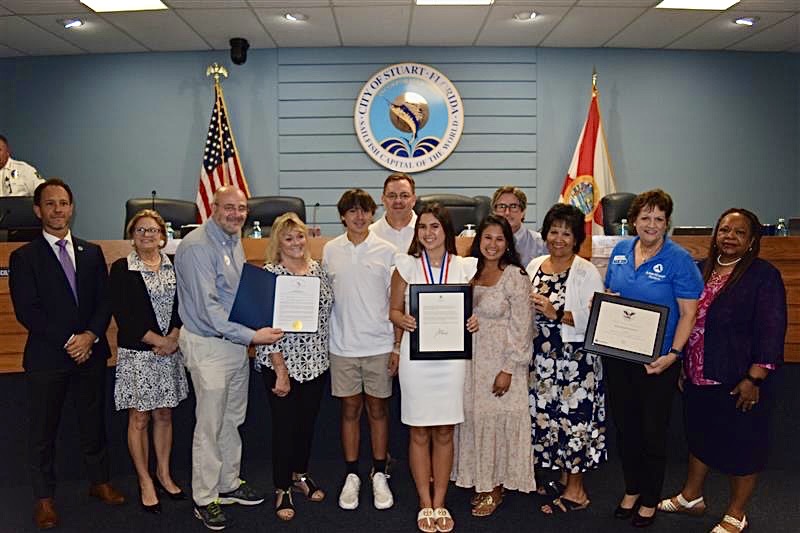 United Way of Martin County proudly recognizes the outstanding achievements of Ashleigh Polhemus, a dedicated and altruistic 15-year-old student, honored with The President's Volunteer Service Award. This national accolade recognizes accomplishments in service and is run by the AmeriCorps Seniors, a program of United Way of Martin County, and the Points of Light Foundation. 
In a proclamation highlighting the significance of volunteerism as the cornerstone of a compassionate and thriving community, the City of Stuart Commissioners acknowledged the exceptional contributions of young individuals actively engaged in community service. Ashleigh Polhemus's unwavering commitment and exceptional character have earned her this prestigious award, accompanied by a certificate of Gold Achievement, a congratulatory letter from the President of the United States, and the esteemed President's Volunteer Service Medallion.
Ashleigh's remarkable achievements reflect her selflessness, leadership, and significant impact on the lives of Martin County residents. Her dedication to volunteerism serves as a shining example, reminding us of the boundless potential within our youth to create a brighter, more compassionate world.
"We are thrilled to celebrate Ashleigh Polhemus for her contributions and dedication to the values of community, compassion, and service. Her remarkable achievements inspire us all to reach higher, give more, and foster a community that thrives on the principle of equal access and opportunities for success," said Carol Houwaart-Diez, President and CEO of United Way of Martin County.
United Way of Martin County continues to support and encourage initiatives that promote volunteerism and community engagement, recognizing the transformative power of individuals like Ashleigh Polhemus in creating a positive impact on society.
---
About United Way of Martin County
United Way of Martin County's mission is to improve lives by mobilizing the caring power of our community. Since 1972, the United Way has been working to create long-term social change by investing in programs that strive to improve Martin County residents' education, health and financial stability. For more information about United Way of Martin County, visit www.UnitedWayMartin.org or call 772-283-4800.
---